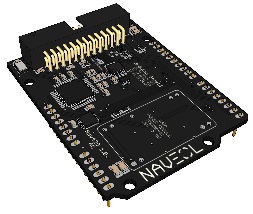 Documentation :
This shield is an ARINC 429 interface for Arduino. The circuit features two ARINC 429 inputs and one ARINC 429 output along with additional multipurpose inputs / outputs. The shield is based on Holt HI-3593 ARIC 429 certified chip.
The shield may be plugged onto Arduino Uno or Nucleo boards and provides a 26 pins HE-10 connector to the external world. The HE-10 connector enables the use of a SUB-D25 plug if wanted.
A Gaïa MGD-04 28V -> 5V DC-DC certified power converter may be soldered by the user if necessary. The converter is then able to power the shield and the Arduino board. Otherwise, the shield is powered by Arduino.
The board may be used as a protocol converter, bridge (2xA429 -> A429, RS422 <-> A429 etc…), test bench, PC interface with aeronautical equipment etc.
NEW !
To place an order, simply send an e-mail to NAVEOL. There is no minimum order quantity and the delivery time can now be short (worldwide). NAVEOL now stocks this product in France.
1-10 pcs: unit price 720 euros VAT exc.
10-20 pcs: unit price 495 euros VAT exc.
20-50 pcs: unit price 450 euros VAT exc.
50+ pcs: unit price 390 euros VAT exc.
Documentation: